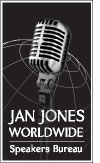 We invite you to browse our list of featured speakers. This is not an exhaustive list. Many business and celebrity speakers don't wish to be advertised. If you don't see the Speaker you want, click here to send us an inquiry, or call 1-760-431-8692 to speak with one of our agents.
For a list of speakers sorted by category click here.



John Amatt
John Amatt knows about tough times and the value of struggle in bringing out the best in teams of people! After all, he was a leader of an Everest team, which suffered four tragic deaths in 2 unpredictable accidents before putting six climbers on top of the world.
Romina Arena
For Romina, music has been the vibration of her life since she was just a child. She was a Mouseketeer for Disney's Mickey Mouse club in Italy called "Topolino", and performed as a classical ballerina in the major Italian theatres at the tender age of seven.
Dr. Nasim Ashraf
Dr Nasim Ashraf is a Pashtun and former Cabinet Member in the Musharraf Administration. He is an expert on the Region, frequently touring the Northwest Frontier Provinces. He is in touch with on-the-ground eye witnesses in Pakistan and his talks shed light on the Taliban, Afghanistan, insurgency, tribal relationships and America's battle for the hearts and minds of the local people.
Michael Bergdahl
Professional International Speaker, Author & Wal-Mart Competition Authority
Guarav Bhalla
Guarav Bhalla is a battle tested global consultant, educator, and thought leader as well as a capativationg speaker.
Ken Blanchard
Author of the mega-bestselling "The One Minute Manager" Dr. Blanchard is a prominent, sought-after author, speaker and business consultant, widely regarded as one of the most insightful, powerful and compassionate individuals in business today.
Brian Biro
Brian Biro is one of today's most sought-after professional speakers. Known as America's Breakthrough Coach, he is also a Teambuilding Speaker, a Motivational Speaker, and a Leadership Speaker with the skills, knowledge and experience to truly deliver exceptional results.
Ramona Braganza
A terrific addition to any corporate retreat, fitness workshop, or keynote session on fitness, nutrition and wellbeing, Celebrity fitness trainer Ramona Braganza may be most known for sculpting hot Hollywood bodies.
Les Brown
Les Brown is a top Motivational Speaker and bestselling author whose passion is empowering youth and helping them have a larger vision for their lives.
Marcus Buckingham
The world's foremost authority on employee retention and management practices, Marcus Buckingham has dedicated his career to helping individuals discover and capitalize on their personal strengths. With a string of New York Times best selling books, he has helped to usher in the "strengths revolution," showing that people are dramatically more effective and successful when they are able to focus on the best of themselves.
Dr. Robert Cialdini
Dr. Robert Cialdini has spent his entire career researching the science of influence earning him an international reputation as an expert in the fields of persuasion, compliance, and negotiation.
Jack Canfield
Founder and co-creator of the billion-dollar book brand Chicken Soup for the Soul and the nation's leading authority on Peak Performance.
Ram Charan
Described by Fortune Magazine as "the most influential consultant alive" Ram is a revered and highly acclaimed business advisor to the world's top CEOs and companies including Verizon, Home Depot, Bank of America and 3M.
Rai Chowdhary
Author, Speaker, Business Coach, President and CEO – TEAM 2000
James Clear
James is one of the world's leading experts on habit formation. He is known for his ability to distill complex topics into simple behaviors that can be easily applied to daily life and work.
Geoff Colvin
Geoff Colvin is an award-winning thinker, author, broadcaster, and speaker on today's most significant trends in business.
Dan Couglin
Dan Coughlin is a student and teacher of practical processes that improve business performance. For more than a decade, he has invested over 3,000 hours on-site observing and advising executives and managers in a wide variety of business functions and in more than thirty industries.
Stephen Covey
Stephen M. R. Covey leads the Global Speed of Trust Practice. A sought-after and compelling keynote speaker and advisor on trust, leadership, ethics, and high performance, he speaks to audiences around the world.
Roger Dawson
Roger Dawson is one of America's top experts in the art of negotiating. He is the Founder of the Power Negotiating Institute. Success Magazine calls him "America's premier business negotiator."
Panache Desai
Panache Desai is an inspirational visionary and contemporary spiritual teacher in the field of consciousness and vibration, whose gift of vibrational transformation has drawn thousands of people from around the world.
Jonathan Dimbleby
Well known BBC presenter, writer and distinguished broadcaster of current affairs programs, film maker and author of "The Prince of Wales: A Biography", "The Palestinians" and "Russia".
Chip Eichelberger, CSP
Former Tony Robbins international point-man and Certified Speaking Professional (CSP).
Chester Elton
Called the "Apostle of appreciation" by the Globe and Mail, Canada's largest newspaper, and "creative and refreshing'" by the New York Times, Chester Elton is co-author of several successful leadership books. All In, The Carrot Principle and What Motivates Me have been New York Times and #1 Wall Street Journal bestsellers.
Dave Evans
Dave is the author of best-selling Social Media Marketing: An Hour a Day, and Social Media Marketing: The Next Generation of Business Engagement. Dave is a frequent keynoter and leads workshops with the American Marketing Association as well as Social Media Executive Seminars. Dave writes a social media column for ClickZ.
Steve Farber
Steve Farber is President of Extreme Leadership, Inc., an organization devoted to the cultivation and development of Extreme Leaders in the business community.
Ranulph Fiennes
Called "The Worlds Greatest Living Explorer" by the Guinness Book of Records.
John Foley
Every organization depends upon the performance of its people and its teams. There are few examples where this is more dramatically demonstrated than with the Blue Angels. John Foley draws upon his experience as Lead Solo of the Blue Angels to inspire audiences and to show them how to achieve substantially higher levels of performance.
Carol Frohlinger
Carol Frohlinger is an internationally known speaker on the ways women can negotiate with authenticity to achieve their maximum personal and professional potential. Her depth of expertise and unique perspectives have empowered thousands of women to negotiate more confidently, competitively and competently in all aspects of their lives.
Adam Gazzaley, MD, PhD
Expert on Brain Health, Healthy Aging and Alzheimer's disease, Dr. Gazzaley presents on topics of major public interest and attention.
Ed Gibson
United States Astronauts Hall of Fame. Held the America record of 84 days in space for 21 years. NASA Distinguished Services Medal.
Rowan Gibson
Rowan Gibson is widely recognized as one of the world's foremost thought leaders on Business Innovation. He is the internationally bestselling author of two major books on business strategy and innovation, Rethinking The Future and Innovation to the Core, which have been published in 25 languages.
Ruben Gonzalez
As a three-time Olympian and a national luge champion, peak-performance expert Ruben Gonzalez knows how to achieve success again and again. Now you can learn the keys to success from someone who's been there. Ruben will show you how ordinary people can accomplish extraordinary things.
Adrian Gostick
Adrian Gostick is the author of several bestselling books on corporate culture, including the New York Times, USA Today and Wall Street Journal bestseller The Carrot Principle. He also wrote the bestsellers The Orange Revolution and All In.
V.G. Govindarajan
V.G. Govindarajan, known as "VG", is widely regarded as one of the world's leading experts on strategy and innovation. He is the Earl C. Daum 1924 Professor of International Business at the Tuck School of Business at Dartmouth College.
Dr. Anil K. Gupta
Anil K. Gupta is widely recognized as one of the world's leading experts on strategy and globalization. He is the Michael Dingman Chair in Global Strategy & Entrepreneurship at the Smith School of Business, The University of Maryland at College Park.
Gary Hamel
Named the world's most influential business thinker by Fortune Magazine and the Wall Street Journal, Hamel repeatedly tops the Executive Excellence Magazine's annual rankings of most sought-after management speakers. He is the most reprinted author in Harvard Business Review's history.
Mark Victor Hansen
Mark Victor Hansen is universally known as the co-author of the Chicken Soup for the Soul book series, setting world records in book sales, with over 500 millions books sold.
Rich Horwath
Rich Horwath is a New York Times, Wall Street Journal and USA Today bestselling author on strategy. As the CEO of the Strategic Thinking Institute, Rich leads executive teams through the strategy process and has helped more than 50,000 managers around the world develop their strategic thinking skills.
Jason Jennings
Jason Jennings is a thought provoking, highly skilled communicator who delivers the goods when it comes to leading people and companies to their full potential.
Lord Digby Jones
Digby Jones was born into business. Some of his earliest memories are of life in a busy corner shop where he lived with his mother, father and older sister. The shop was, he says, "within a spanner throw of the Austin" in Alvechurch just outside Birmingham.
Terry Jones
Terry has a proven track record of leading companies whose innovations have changed an industry. Today, Terry Jones is the managing principal of On, Inc., a consultancy he founded to help companies transition to the digital economy.
Garry Kasparov
Widely regarded as the greatest chess player ever, Kasparov delivers forceful, compelling presentations on a variety of subjects including using strategic thinking in business and politics, strategy & competition and success is in the mind. He delivers his talks in English.
Katty Kay
Katty Kay (pronounced CAT-TEE) is the lead anchor of BBC World News America.
Philip Kotler
Distinguished Professor of International Marketing at the Kellogg School of Management, Northwestern University.
John P. Kotter
Professor at Harvard Business School, highly regarded as an expert on leadership and change. Professor Kotter talks to groups with one and only one goal: to motivate action that gets better results.
Polly LaBarre
Polly LaBarre is a bestselling author, speaker, and entrepreneur who has worked for nearly 20 years to embolden and equip leaders in every realm of endeavor to make their organizations more resilient, innovative, inspiring, and accountable.
Ric Lee
Drummer with legendary British 60s/70s blues-rock-jazz band Ten Years After, whose appearance at Woodstock was one of the highlights of the event. Ric's talks give audiences a first-hand look into the life of a major rock band with all the trappings of success. Learn the discipline, perseverance, sacrifice, commitment and guts it takes make it in the ruthlessly competitive world of rock music and how to apply those success principles in your business every day.
Patrick Lencioni
Author of "The 5 Dysfunctions of Team" Lencioni's book has sold over 3 million copies and focuses on collective team behaviors that lead to success. Ken Blanchard described him as "fast defining the next generation of business thinkers".
Jones Loflin
If you are looking for a speaker on Leadership, Change Management, Time Management or Work/Life Balance, involve yourself in a presentation by Jones Loflin and you will quickly learn why he has become one of the most respected names in helping individuals and organizations deal with the challenges facing them today.
Roya Mahboob
Roya Mahboob was named to TIME Magazine's 100 Most Influential People in the World for 2013 for her work in building internet classrooms in high schools in Afghanistan and for Women's Annex, a multilingual blog and video site.

Vikram Mansharamani
Vikram Mansharamani is an experienced global
equity investor and Lecturer at Yale University.
Dr. Mansharamani teaches the seminar "Financial Booms & Busts" to Yale College undergraduates,
an extremely popular course as indicated by student reviews and enrollment.

John Mattone
John Mattone is the man current and future Fortune 500 leaders turn to for game-changing insights on how to overcome their self-imposed limiting thoughts and habits.
John Maxwell
John Maxwell is an internationally recognized leadership expert who speaks throughout the world inspiring hundreds of thousands of leaders. John is a natural born teacher who loves to challenge and motivate audiences with real-life stories, humorous anecdotes and rock solid principles that he backs up with his live-it-out approach.
Joseph Michelli
Internationally sought-after speaker, organizational psychologist, and business consultant.
Hank Moore
Peter Drucker described Hank Moore's "Business Tree" as the most original business concept in the past 40 years. Hank has advised over 5000 client organizations worldwide, including 100 of the Fortune 500 companies in visioning, planning, growth strategies and executive leadership.
Dr. Zunaira Munir
Internationally acclaimed Blue Ocean Strategy, Innovation Management and Leadership Expert Dr. Zunaira Munir inspires audiences to 'Make Competition Irrelevant.' A sought-after speaker, trainer, and business consultant she challenges companies to look beyond just surviving. She presents Blue Ocean Strategy as a learnable skill for systematically innovating.
Dr. Kjell Nordstrom
Dr. Kjell Nordstrom is a bold leader in the new world of management thinking. He doesn't just challenge the conventional approach to business, he offers real solutions and alternatives.
Jack Perkowski
Upon graduating Cum Laude from Yale and with High Distinction from the Harvard Business School where he was named a Baker Scholar, Jack spent eighteen years on Wall Street, rising to head of investment banking at PaineWebber.
Bob Pritchard
Bob has 30 years experience as a business and marketing troubleshooter and consultant with many of the world's leading companies including BMW, Microsoft, AT&T, Johnson & Johnson, Hilton Hotels, Coca-Cola, Citibank, Anheuser-Busch, Mercedes-Benz, Frito-Lay.
Ravi
Ravi tours the world conducting clinics, and lecturing on crucial issues facing the music and aviation industries. Ravi "The Raviator" is a pilot and motivational speaker who is bringing renewed passion to the aviation industry.
Jairek Robbins
Jairek Robbins is personal achievement coaching royalty. He's the son of Anthony Robbins, the world's long-time, leading authority on peak performance. A chip off the old block, Jairek is a man on a mission, focused on developing creative solutions for accelerating results.
George H. Ross
Executive Vice President and Senior Counsel for the Trump Organization
Don Miguel Ruiz
Don Miguel Ruiz is the international bestselling author of the Toltec Wisdom series of books, including The Four Agreements, which spent over 7 years on the New York Times bestseller list.  It is the 36th best-selling book of the decade.  His others books include The Mastery of Love, The Voice of Knowledge, Prayers, Beyond Fear and The Fifth Agreement, a collaboration with his son Don Jose. All of his books are international bestsellers.
Derek Rydall
After a life-changing 'brush with death' experience, Derek Rydall considered becoming a monk, then a minister, then cloistered himself in his apartment without TV or news and meditated for several years - finally emerging to become a licensed integrative therapist, a professional writer, and adopt a monk (that's another story).
Tony Schwartz
Tony Schwartz is President and CEO of The Energy Project, a company that helps individuals and organizations fuel energy, engagement, focus and productivity by harnessing the science of high performance.
Lewis Schiff
Expert in the luxury retail and high net-worth market space.
Luca Spaghetti
His last name became famous due to his encounter with Elizabeth Gilbert, the author of the bestslling book, "Eat, Pray, Love". In the book, Luca is none other than the character "creatively" named... Luca Spaghetti.
Don Sull
Dr. Donald Sull is a global authority on how companies compete effectively in turbulent markets. He is
Professor of Management Practice in Strategic and International Management, and the Faculty Director of Executive Education at the London.
David Taylor
A leading global authority on leadership and business success
Mark Thompson
Co-author of the international bestseller, Success Built to Last, senior executive, board member, management coach, producer and investor in growing businesses.
Fons Trompenaars
Fons Trompenaars is known worldwide for his work as a consultant, trainer, motivational speaker and author. He has spent over 25 years helping Fortune 500 leaders manage and solve their business and cultural dilemmas to increase global effectiveness and performance, particularly in the areas of Globalization, Mergers & Acquisitions, HR and Leadership Development.
Donald Trump Jr.
Describing himself as "the original apprentice", Don is Executive Vice President, Development & Acquisitions at The Trump Organization and is seen regularly on TV on "Celebrity Apprentice". He is in demand to speak on issues other than real estate, particularly the power of the brand, practical business expertise and leadership lessons he learned first hand from his famous father, Donald Trump.
Ivanka Trump
One of the most recognized and influential young business women today, Ms Trump is Executive Vice President of Development & Acquisitions, along with her 2 brothers, at the Trump Organization, where she focuses on deal evaluation, development, planning, construction, sales & marketing. Ivanka has a line of luxury diamond jewelry and is one of the stars on the reality show "Celebrity Apprentice".
Robert Tucker
Robert B. Tucker is president of The Innovation Resource, and an internationally recognized leader in the field of Innovation. Formerly an adjunct professor at the University of California, Los Angeles, Tucker has been a consultant and keynote speaker since 1986.
Dave Ulrich
Dave Ulrich was ranked the #1 Management Educator & Guru by BusinessWeek, selected by Fast Company as one of the 10 most innovative leaders, named the most influential person in HR by HR Magazine for 3 years, and repeatedly appears on the World's Top 50 Business Thinkers List.
James Van Praagh
James is an internationally-renowned psychic medium and #1 New York Times best-selling author of Talking to Heaven; Reaching to Heaven; Healing Grief; Heaven and Earth Looking Beyond; Meditations; Ghosts Among Us; Unfinished Business and Growing Up In Heaven. 
Ekatrina Walter
Ekaterina Walter is a social media trailblazer and an author of the Wall Street Journal bestseller "Think Like Zuck: The Five Business Secrets of Facebook's Improbably Brilliant CEO Mark Zuckerberg", as well as upcoming book "The Power of Visual Storytelling: How to Use Visuals, Videos, and Social Media to Market Your Brand."
Geoffrey West
President and Distinguished Professor, Santa Fe Institute and Time Magazine's "100 Most Influential People in the World"
Liz Wizeman
Liz Wiseman teaches leadership to executives around the world. She is the President of the Wiseman Group, a leadership research and development firm headquartered in Silicon Valley, California.
Simon Woodroffe
Founder of YO! and a leading business motivational speaker
Muhammad Yunus
Nobel Laureate and founder of the Grameen Bank, Dr. Yunus pioneered the concept of micro-lending (making small loans to poor villagers). Many millions have been lifted out of poverty as a result. Dr. Yunus' vision is the total eradication of poverty from the world.
Benjamin Zander
Conductor of the Boston Philharmonic Orchestra for over 30 years, performing an extensive repertoire. Zander travels the world lecturing on leadership and is a frequent guest speaker at the World Economic Forum at Davos. His best-selling book "The Art of Possibility" has been translated into 16 languages.
To book one of our speakers at your event, please contact: Jan Jones Worldwide Speakers Bureau at 1-760-431-8692