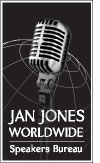 For Romina, music has been the vibration of her life since she was just a child. She was a Mouseketeer for Disney's Mickey Mouse club in Italy called "Topolino", and performed as a classical ballerina in the major Italian theatres at the tender age of seven.
Romina's life almost came to an end at age 16 when she suffered a vicious attack at the hands of a fellow entertainer who, in a fit of jealous rage, slit her throat, severing her vocal cords and rendering her comatose for many months. Not one to surrender easily, with true determination and the love and support of her family and friends, Romina not only survived the attack, but completely recovered to become an international singing star with a five octave vocal range. With inspirational support from three of the greatest mentors, Oscar-winning film composer Ennio Morricone, Oscar film director Giuseppe Tornatore and Grammy songwriter Diane Warren, Romina has grown into a wonderful artist but more importantly, as a good human being.
It is her powerful and unique Popera style (pop meets classical) she is considered the first and only female Popera singer in the world, often compared to a young female Bocelli or a female Josh Groban. Her talents as a singer, actress, composer, writer and producer have captured the attention of Hollywood.
Romina has been produced by Grammy-winning record producers including: Chuck Howard (LeAnn Rimes), Bon Johnston (Bob Dylan, Johnny Cash) and Kevin Savigar (Rod Stewart). Recently Romina collaborated with award-winning producer/composer Giovanni Lodigiani (Oprah, CNN) , on her latest 'work of the heart', her long awaited new album. Released late in 2010, entitled 'Premonition', the album is an exquisite combination of symphonic work, a movie score and infectious pop hooks. Romina calls this fantastic new music: Epic Pop.
Fluent in ten different languages,Romina writes and sings in English, French, Spanish, German, Italian, Portuguese, Japanese, Greek, Hebrew and Bulgarian. This talent has opened many doors to the international music markets as well as the United States.
Some of Romina's notable accomplishments include:
Four number #1 singles in four different countries, in several major markets including Japan, Europe and Australia.
Sold over (4) Four Million Records Worldwide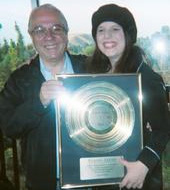 Receiving a lifetime achievement gold record "RAI International "from Italy for her contributions to the music industry in Europe.
Singing in concert for Pope Paul John II at the Vatican.
Performed with Italian greats Pavarotti, Andrea Bocelli. Pop artists Lionel Richie & Brian Wilson, Mario Frangoulis, Al Martino And Elliot Sloan, lead Singer of band Blessed Union of Souls.
Performing on the Celine Dion stage at Caesars Palace Coliseum in Las Vegas.
Performed her first US national PBS television special in 2007.
Romina is active in humanitarian and charitable works. She is the 2010 Recipient of the GLOBAL CITIZEN HUMANITARIAN AWARD for her support to the children of Haiti, presented by Jim Luce of the New York Times/ Orphans International in collaboration with the 
United Nations and Honorary Member HRH Prince Albert of Monaco.
2010 recipient of the ARTEMIS GODDESS AWARD for her contribution to the arts and music in America, presented to her by
EAWC( European American Womens Council) in Greece.
2010 recipient of the OLYMPUS OF THE ARTS AWARD presented to Romina Arena along with Jane Russell, Linda Grey and Edward Begley Jr, for her contribution to humanity and work in the arts and music in the world.
Romina has several projects in development including her autobiography which is being developed by an Oscar-winning Hollywood producer.
SPEAKING TOPICS:
All speaking presentations are accompanied by a singing performances by Romina.
THE STRENGTH INSIDE OF YOU: How to Turn Your Fears & Weaknesses into Strength, Endurance and Success! Using real-life examples, Romina shares her life story. Not even having her throat slit and lying in a coma for many months were able to keep her from fulfilling her dreams of being a world-renowned singing star. Today, she has 5 Gold Records hanging on her wall and over 4 million albums in worldwide sales. Learn about the guts and determination that can propel you to achieving your dreams.

IT'S A CUT THROAT BUSINESS - LITERALY! In this session Romina will teach you how to succeed in your own endeavors, whether you are a business person, an artist, author, singer, or if you just want to BE SOMEBODY! Romina reveals her 'secrets' for how to create wealth and awareness about who you are and bring in a 6-figure income, using the talents you have right now. Follow Romina's specific rules, and avoiding the cut throat side of business.
PERFORMING ONLY - Romina is available for musical performances without any speaking.
To book Romina Arena to speak at your event, please contact: Jan Jones Worldwide Speakers Bureau at 1-760-431-8692