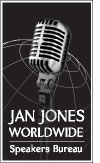 For Event Planners
First and foremost, our relationships are with the event sponsors. We've established our niche in the marketplace by getting to know you, the type of events you host, the type of speakers you prefer, what topics interest you most, the realities of your budget, when you will stretch your budget for a big name, what turns you on, what turns you off.
When you work with us, we move like clockwork to enable you to secure a speaker without any of the angst that can accompany the meeting planner's search for the ideal speaker.
We stay involved throughout the entire process - with you and the speaker – following up on due dates and deliverables, confirming media interviews, providing assistance with travel, visas, etc., getting expenses turned in on time and generally freeing you up from details that zap your energy and eat up your precious time.
A Special Note for U.S. Meeting Planners
While we specialize in international markets our roots are right here in the United States. We're ready to apply our personal approach to ensuring a rock-solid experience for your event in America, or overseas.
"I have known Jan Jones for over 10 years during which time we have done numerous events together. Every transaction has been handled with 100% integrity and efficiency and we have no hesitation in recommending Jan and her agency as trustworthy and loyal business partners."
- Karen Watkins,
Business Connect,
Sydney, Australia
"We couldn't have done it without you! This is more than an understatement. Ted and all of us at AOC are so grateful for your inexhaustible energy and commitment on behalf of our gala and regatta."

- American Oceans Campaign,
Santa Monica, California