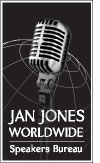 Jason Jennings is a thought provoking, highly skilled communicator who delivers the goods when it comes to leading people and companies to their full potential in the areas of revenue growth, reinvention, speed, productivity, leadership and employee engagement.
During the past decade Jason Jennings and his research teams have screened and analyzed the performance of more than 200,000 companies and studied more than 25,000 in-depth for his bestselling books on Speed, Productivity, Growth, Leadership and Reinvention. His speeches and presentation are based on the results of his research and the contents of his books.
PRESENTATION TOPICS:
Reinvention – The Six Secrets of Change
This keynote is based on Jennings' latest book The Reinventors –How Extraordinary Companies Pursue Radical Continual Change, which identifies more than 100 companies that have made constant change an integral part of their DNA. By examining innovative businesses such as Apple, Capital One, Starbucks, Arrow Electronics, Nucor Steel, Smithfield Foods and many more, Jennings identifies six points, tailored to your organization's needs that will help you crack the code on change. Key findings include the fact that successful reinventors are committed to double digit annual growth, letting go of yesterday's breadwinners, conventional wisdom and ego, making lots of small bets and getting and keeping everyone on the same page.

The Five Secrets of the World's Best Performing Companies and Leaders
This is the crowd pleaser that's received standing ovations from hundreds of thousands of people in scores of countries around the world. Jennings' research has revealed five vital leadership traits that are shared by the most enduring and best performing businesses and organizations in the world. This information-packed and dynamic speech not only provides the roadmap for achieving long lasting business success. but leaves people believing they're all on the same team and capable of carrying out the mission ahead of them.

The Need for Speed – How to Get Everything Done Faster
If your audience is being asked to move faster and get more done with less, this keynote speech will deliver results! It's based on content from the New York Times bestseller, It's Not The Big That Eat The Small –It's The Fast That Eat The Slow. USA TODAY named it one of the 25 most important books of the year. It's brutally honest; fast-paced and provides a roadmap for getting things done.
Testimonials:
Jason's speeches consistently receive the highest evaluations ever received by organizations that hire him.
Cisco's Worldwide Partner conference – "The scores are in and Jason's speech received a rousing 4.77 evaluation score on a scale of 1-5 the highest ever received by a keynote speaker." This is the highest score achieved in Cisco's history.
Microsoft's Asia OEM Conference – According to Microsoft research, "Jennings was the highest rated speaker at the conference achieving a 4.83 ranking out of a possible 5 for the Asian Summit." The highest score ever achieved by an outside speaker in Microsoft's history.
Microsoft's Worldwide Partner Conference - "The most touching moments came when partners approached us and told us how much they appreciated having Jason there and saying that Jason's speech made their trip worthwhile! I have not seen anything other than scores of 5.0 across all categories!" Patama Chantaruck, General Manager, Thailand
SHRM – is the world's largest human resources association. Jason's keynote at the annual strategy conference in 2010 beat out the scores of all the other keynoters including Creativity Expert Sir Ken Robinson, Strategic Consultant Rich Horwath and Ann Mulcahy, former Chair and CEO of Xerox.
Many thanks Jason for the great job you did in Paris. Just back from Egypt! You were the best speaker I worked with by far and the feedback from the group has been outstanding. - Mohamed Samir, P&G Vice President, Fabric Care
You did a fantastic job with the Ace team last week! I have received a ton of very positive comments from our Ace retailers regarding your keynote speech. Thank you! - Kane Calamari, lst Vice President - Retail Operations & New Business, Ace Hardware Corp
Jason Jennings was an entertaining and motivating speaker who completely captivated our employees. His insights were right on the money! - Michael Sneed, Company group Chairman, Johnson & Johnson Consumer Companies


To book Jason Jennings to speak at your event, please contact:
Jan Jones Worldwide Speakers Bureau at 1-760-431-8692