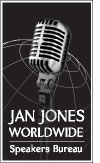 TERRY JONES is the founder and former CEO of Travelocity.com. He led the company for six years and took it public. After Travelocity, he co-founded Kayak.com and served as Chairman until it was sold to Priceline. Earlier, Terry was CIO at American Airlines and Sabre Inc. Terry has a proven track record of leading companies whose innovations have changed an industry. Today, Terry Jones is the managing principal of On, Inc., a consultancy he founded to help companies transition to the digital economy. He has been helping companies use the tools and techniques he's developed to keep up with this rapidly changing world. His programs on Innovation, Leadership, Marketing and e-commerce are thought-provoking, entertaining and customized. Attendees receive inspired ideas and concrete action items to implement in their companies. With programs that are informative and mind expanding Terry Jones challenges audiences to think outside the box and envision the future.
Terry's clients include Harvard University, Columbia University, Penn State, Blue Cross Blue Shield, Charles Schwab, JP Morgan Chase, Chase Bank, Million Dollar Round Table, Coldwell Banker, CIO Synergy, IBM, Intel, Microsoft, Oracle, Pitney Bowes, Las Vegas Chamber of Commerce, Council of Tourism, Thrifty Rent-A-Car. Association
TOPICS:
Terry is a dynamic, accomplished speaker, equally at home in an intimate corporate setting, or keynoting on a national stage.
The Business of Innovation:
The Business of Innovation explores the fundamentals of innovation...how to generate great ideas, how to 'fail fast', how to kill projects without killing people, how to experiment and 'do more with less'. Terry provides real world examples drawn from his experience at Travelocity.com, the boards of seven startups and his consulting work with companies large and small.

Building Digital Relationships with your Customers:
How will your customer contact you today? In the store, via the phone, on your web site, read a tweet, friend you on Facebook? There is no way to know. Building Digital Relationships gives your audience the keys to unlock the mystery of how to connect with customers online. While face to face isn't going away, businesses that don't have an effective online relationship strategy are being left behind.Terry can educate your audience in all phases of the digital conversation from search to social media, using real world examples drawn from his long experience in the online world.
Other Topics include:
Innovation in a Large Company
The 3rd Channel: How the Internet can Create the Most Personal Customer Relationship
TESTIMONIALS:
You brought so much passion and energy to your event in New York...I'm certain that our program in France will be all the more successful thanks to your participation.
- Ginni Rometty, CEO, IBM
Terry Jones really delivered. His presentation was highly rated and was right on target for an audience of diverse business types and sizes. Well done.
- Las Vegas Chamber of Commerce
You were a smashing success!
- New Horizons Learning Centers
To book Terry Jones to speak at your event, please contact: Jan Jones Worldwide Speakers Bureau at 1-760-431-8692