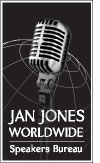 INSIGHT   ILLUMINATION    IMPACT
If you are looking for a speaker on Leadership, Change Management, Time Management or Work/Life Balance, involve yourself in a presentation by Jones Loflin and you will quickly learn why he has become one of the most respected names in helping individuals and organizations deal with the challenges facing them today. His gift of communication combined with his wit and enthusiasm make for programs that are illuminating and unforgettable.
Clients are drawn to Jones because of his unique ability to develop and deliver practical programs that specifically address the complex needs of an organization. His strength is in providing simple strategies that enable individuals and organizations to pursue their goals with confidence and clarity. It's no wonder that the most frequent comment heard by meeting planners or Human Resources team members after a presentation by Jones is "This is exactly what we needed!"
Drawing on skills honed as an educator, business owner, and speaker, Jones has created and conducted training programs for groups ranging from international corporations and trade associations to governmental agencies and educational institutions. Jones' insightful programs make an impact instead of an impression because they regularly include the use of humor, powerful examples and frequent audience involvement. His client list includes Wal-Mart, Microsoft, Bridgestone, US Airways, Siemens International, Federal Express, The US Navy and a host of other international business and education-related organizations.
In addition to his success as a speaker, Jones is an accomplished writer. He is co-author of the award-winning book, Juggling Elephants, which is available in the US and in over 14 countries. Getting the Blue Ribbon offers a fresh way to change and get better results. His newest book, Getting to It, will be released in late 2013. Jones is a member of the American Society of Training and Development and National Speakers Association.
Jones also worked extensively as a speaker for the best-selling book, Who Moved My Cheese? In addition to delivering the program both nationally and internationally, he has trained individuals from over 15 countries to take this powerful learning experience to their own organizations.
In his over 19 years of experience, Jones has worked with audiences of all sizes and all places (even on a fishing boat!). His energy and humor captivates any audience while his audience involvement makes each individual an active participant. And the learning won't stop when the program is over. With his engaging examples and actionable strategies you can be assured every member in attendance will leave with the tools to make the future they most want a reality.

Presentations range from keynotes to full day competency-based trainings.
Key Benefits:
- Content areas include time management, work life balance,
change, teambuilding, customer service and motivation.
-Ability to deliver both a keynote address and breakout sessions to
heighten the impact and application of his strategies.
- Unique ability to open or close a conference to set the tone for the
conference or send participants home fully equipped to get better results.
- Jones pinpoints your specific desired outcomes through pre-program
assessments, conference calls and a thorough study of your organization's
history and current issues.

TOPICS:
In addition to these most requested topics, Jones will combine and customize his presentation for your specific needs
Getting the Blue Ribbon:
- Offers simple, yet powerful fresh strategies on:
- Initiating and Leading Change
- Performance Improvement
- Motivating Yourself & Others
- Teambuilding
Juggling Elephants:
Struggling with too much to do? If so, get ready to take more control of your time and energy so that you are running your circus instead of your circus running YOU!
Change Is Good...You Go First!:
Learn timeless principles to lead yourself and others to greater success in times of change.
- Discover Reasons for Resistance and How to Move Beyond Them
- Determine What Needs to Change Based on a 3-Question Assessment
- Identify Existing Resources Available to Move the Change Process Forward
- Create A Realistic Vision of the Change
- Maintain Personal & Team Motivation in Times of Change
TESTIMONIALS:
You created a lot of excitement at both presentations and I've heard many, many positive comments from my co-workers. I just wish we had your opening from the WHQ event where you talked about being a package - that was fabulous!
- Peggy Hall, Global Leadership Institute, Federal Express
The program yesterday was right on track with what I wanted it to be, and just as expected, time was too short.
- Chris Williamson, Hilton Hotels Corporation
When people ask me suggestions for speakers, I have been giving them your name. Hope you don't mind. You presented the program with such a high degree of energy and humor.
- LaVerne W. Marshall, US Department of the Treasury

What an outstanding presentation. Thank you so much for making the attendees feel good about their roles and for making me look good!
- Cookie Dorsey, Texas Credit Union League
You were definitely a hit with all of our franchise owners. What a great approach to a topic everyone was able to relate to.. Your sense of humor combined with a fresh approach to becoming the master of your life was incredible. You kept everyone entertained while presenting a powerful message.
- Linda Shaub, Interim Healthcare Inc.
To book Jones Loflin to speak at your event, please contact: Jan Jones Worldwide Speakers Bureau at 1-760-431-8692