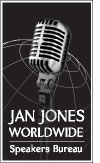 Jonathan Dimbleby was born in 1944. He was educated at Charterhouse School and at University College, London where he read Philosophy (BA Hons) and where he is a Fellow.
Jonathan is a writer, broadcaster and film-maker. As a reporter for ITV's This Week programme he covered crises, conflicts and disasters in more than 80 countries. In 1973 he won BAFTA's Richard Dimbleby Award for his coverage of the famine in Ethiopia.
He was the first presenter of BBC's On The Record from 1987 to 1992. He presented ITV's flagship weekly political programme, Jonathan Dimbleby from 1995until May 2006. He has presented Any Questions? and Any Answers? for BBC Radio 4 since 1987. He was ITV's anchorman for the 1997, 2001 and 2005 general elections.
In 1994 he wrote, presented and co-produced Charles, The Private Man, the Public Role for ITV. In 1997 his five part documentary series, The Last Governor, about the final years of British rule in Hong Kong, was screened by BBC 1. His documentaries about Ethiopia and Kosovo were shown by the ITV network in 1998 and 2000 respectively. His three part series The New World War - about terrorism, poverty and the environment - was broadcast by ITV in 2004. In 2008 his five part series Russia – A Journey with Jonathan Dimbleby was broadcast by BBC2.
Jonathan's publications include Richard Dimbleby (1975), The Palestinians (1979), The Prince of Wales (1994), The Last Governor (1997) and Russia – A Journey to the Heart of a Land and its People (2008).
Among his charitable commitments he has been President of the Soil Association (1996 – 2008) and President of Voluntary Service Overseas (VSO) (1997 - ), Chairman of Index and Censorship (2004 - ), Chairman of the Susan Chilcott Scholarship and Trustee of Dimbleby Cancer Care (Chairman of the Dimbleby Cancer Care Research Advisory Board).
To book Jonathan Dimbleby to speak at your event, please contact: Jan Jones Worldwide Speakers Bureau at 1-760-431-8692