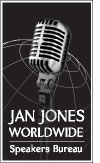 Brian Biro is one of today's most sought-after professional speakers. Known as America's Breakthrough Coach, he is also a Teambuilding Speaker, a Motivational Speaker, and a Leadership Speaker with the skills, knowledge and experience to truly deliver exceptional results. Organizations who are truly committed to bringing out the best in their people hire Brian as a presenter at conferences, meetings and events all over the world. His extraordinary energy and passion create a shared experience that is literally life-changing. His breakthrough message resonates with people in all professions and from all walks of life, which is why so many of his clients invite him back year after year to keep their teams motivated and their energy levels high!
Brian's Topics Include:
• Motivation
• Leadership
• Teamwork
• Team-Building
• Breaking through personal barriers
• Achieving joy and success
TESTIMONIALS:
"If I had known how dynamic you were prior to the Conference, I would have scheduled you for more time. You totally blew all of our minds! I must share with you, more than one person came up to me afterwards and said you changed their life."
- K.C., Southwest Airlines
"Your message made my day! You are truly amazing! We are all still talking about your session and all of the folks from around the world, no matter what culture, loved you. My goodness, you rocked their World!"
- R.V. Vice President, JP Morgan Chase
"We LOVED YOU at our regional meeting in March. Words cannot express how deeply you touched us with your inspiration and enthusiasm! You far exceeded our expectations as an inspirational speaker, and left our group of two hundred executives speechless, teary-eyed, exuberant, motivated....definitely the highlight of our four day meetings!"
- J.B., Target Stores
"This presentation in particular impressed me in how you touched our Partners and Managers, a crowd generally indifferent to most motivational speakers. I was in tears watching you autograph books and listening to some of their personal feelings unveiled."
N.M.O., PriceWaterhouseCoopers
"Brian: What a wonderful day Tuesday was for my team! The event and your passion were beyond my expectations. I have gotten emails from across my team sharing how impactful the insights, training, and emotional connection that was yesterday. I am sure you have heard this before, but many have commented that the training was the best and most tangible training event they had ever attended!"
- K.C Director, WW BPO Operations Microsoft
"Brian: I participated in your seminar today at MSLI in Reno, NV and wanted to write you a note to let you know how moved I was by what I experienced. At MSLI we have many trainings, and I'm sad to say the majority fall short of my expectations and I walk away disappointed. The experience today was beyond different and what I learned from you will resonate with me personally and professionally for a lifetime. Thank you for being such a phenomenal coach, speaker, leader, and above all, human being. I will lead by example and have already shared what I gleaned from you with those who have crossed my path today. You made an extraordinary impact on me and I will forever be grateful for the 4 hours I was able to spend with you.",
K.A. Microsoft

TOPICS:
BUILDING PEOPLE: How do you build trust, momentum, energy, and passion into every member of your team, whether you're the long-time leader or a rookie? And when the workday is done, how do you bring that same enthusiasm to your loved ones? Most importantly, how do you build these qualities within yourself? In this program, Brian guides you to exciting and fresh new approaches in using recognition, acknowledgement, and appreciation to build others. Through wonderful stories and engaging activities, you'll discover the most crucial keys to building trust and to helping everyone around you feel important and significant. You'll learn the most surprising secret to elevate engagement and build leaders.
FROM EGO TO "WE GO": Brian has assisted hundreds of organizations to come together and build environments of mutual support, true respect and great appreciation for one another. It's a formula that creates BREAKTHROUGHS and the winning knowledge that, if it's to be…it's up to WE! Brian uses teambuilding principles and strategies in this one-of-a-kind presentation to engineer a phenomenal turnaround that will result in enormous sales and profitability growth, while transforming a silo-infested organization into a high performance team!
CONTROLLING THE CONTROLLABLES: Isn't it time to stop focusing and worrying about what you DON'T control and shift energy to what you DO control? Organizations and individuals who are winning in these challenging times are creating cultures of possibility, based upon every team member embracing personal responsibility for their effort, energy, and attitude. Transform burn-out and stress to momentum and extraordinary results in your team as you learn to control the controllables!
FOCUS: In this powerful presentation, Brian teaches Leaders how to truly build people and build teams – to be true breakthrough leaders! You'll learn how to help everyone you affect to travel the most important 18 inches they will ever experience, from their heads to their hearts. Remember, if you're not INspired, you're on your way to being EXpired!

To book Brian Biro to speak at your event, please contact:
Jan Jones Worldwide Speakers Bureau at 1-760-431-8692