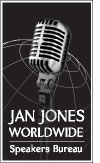 Dan Coughlin works with executives and managers to improve their impact as business leaders. His focus is on helping these individuals improve their organizations in the areas of execution, innovation, and branding in order to generate better sustainable profitable growth. He believes that effective business leadership is the foundation for building a strong economy.
As a business keynote speaker, Dan combines real-life stories from his management consulting work with in-depth research of the audience he is speaking to. He then delivers penetrating and practical insights that attendees can use immediately to improve their performance and results.  Dan has provided hundreds of customized presentations on business acceleration across the United States. His keynote topics include leadership, branding, sales, and innovation.
His clients include Toyota, Abbott, Marriott, Shell, Coca-Cola, McDonald's, St. Louis Cardinals, Boeing, Prudential, IKON Office Solutions, Shawnee Mission Medical Center, Osram Sylvania, Young Presidents Organization, BMC Software, American Bar Association, American Management Association, AT&T, Jiffy Lube Association of Franchisees, and more than 150 other organizations.
Dan is the author of BEAT YESTERDAY: A Business Novel which is filled with practical insights business managers all over the world can use to perform better today than they did yesterday, and better tomorrow than they do today. The primary topics in the book are leadership, branding, innovation, personal effectiveness and teamwork.
His book, The Management 500: A High-Octane Formula for Business Success, is endorsed by Brian Tracy, Marshall Goldsmith and Alan Weiss. The Management 500 provides business managers with exceptionally practical advice on how to generate three consecutive years of sustainable, profitable growth. These management lessons are explained through analogies from the history of professional auto racing including NASCAR, Formula 1, and IndyCar Racing Series, and in ways that business managers in all industries can apply them immediately to improve their most important desired business outcomes. Topics in The Management 500 include personal preparation, problem-solving, strategy, leadership, teamwork, change management, innovation, and branding.
Quoted in USA Today, the New York Times, Investor's Business Daily, The Journal of the American Management Association, and dozens of other publications, Dan Coughlin has written articles that have been published in more than 100 trade association publications, including his monthly article in The Ladders.
As an Executive Coach, he has provided more than 1,500 coaching sessions for division presidents, vice-presidents, and senior directors in Fortune 500 companies and major privately owned firms. As an Organizational Development Consultant, Dan focuses on strategy, planning, and execution.
If you're looking for the latest management fads or fancy business jargon, you've come to the wrong place. That's not Dan's approach. He doesn't dazzle people with complexity. His focus is on helping you achieve your desired business results faster and in a sustainable way. He believes simplicity trumps complexity when it comes to making real progress. He and his clients constantly work to hone simple processes that will improve performance throughout their organizations..
"When I first met with Dan Coughlin to talk about my team, I had no idea what I was getting into. I was surprised and ecstatic with the depth of research Dan used to plan our day-long seminar on leadership. The day flew by thanks to Dan's enthusiasm, willingness to listen, and the diverse plan of activities. Dan has a very simple approach to leadership and provided my team with some good, repeatable strategies to improve performance. The feedback I have received has been all positive. I look forward to working together with Dan in the future."
- Greg Suellentrop, North American Zone Director,
Annheuser-Busch InBev
"Dan, I wanted to say thank you for a wonderful and inspiring discussion on leadership that you gave at our annual meeting. I particularly appreciate the time you took to understand what we were looking for, and to tailor your remarks to the audience. In fact, looking over our survey responses, almost everyone rated your session with the highest possible score. As we discussed, the team is already performing at a high level, and one of our goals was to keep the 'pedal to the metal.' Your comments on continual improvement and staying motivated while motivating others are the ones that I know will resonate longest with the group. Thanks again for a great session."
- Elaine Leavenworth, VP, Government Affairs, Abbott
To book Dan Coughlin to speak at your event, please contact: Jan Jones Worldwide Speakers Bureau at 1-760-431-8692