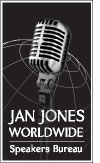 Internationally acclaimed Blue Ocean Strategy, Innovation Management and Leadership Expert Dr. Zunaira Munir inspires audiences to 'Make Competition Irrelevant.' A sought-after speaker, trainer, and business consultant she challenges companies to look beyond just surviving. She presents Blue Ocean Strategy as a learnable skill for systematically innovating.
As the founder and Managing Director of international Blue Ocean Strategy consulting firm Strategize Blue (San Diego, CA) she has helped industry giants Intel, Coca Cola, Hewlett Packard, T-Mobile, Honeywell, AUTODESK, Virbac, RJ Reynolds, DataPath and many more to create wealth and sustainable growth. A distinguished business executive she helped lead her family-business Clary Business Machines to one of the fastest growing privately held companies in the US in 2008 and 2009.
A polished presenter, Zunaira's unique gift to connect with each audience member stems from her fascinating multidisciplinary and multicultural view. She has lived, studied and worked in Asia, Europe and the United States. An active Senior Global Blue Ocean Strategy Network Member she works directly under international best-selling Blue Ocean Strategy authors W. Chan Kim and Renee Mauborgne on cutting-edge research, projects and initiatives worldwide.
Her upcoming book "Key Concepts in Innovation" published by Palgrave McMillan transforms the complexities of innovation into clear terminology for both students and practitioners in the field. Dr. Munir's widely published articles have been featured in China Business Review, International Review of Business and Research, the PDMA Research Forum and many others.
Difficult to ignore the global impact of Blue Ocean Strategy on the business and strategy world she vehemently continues to inspire businesses to apply BOS. She asserts fighting with rivals over competition and innovation without value is simply not enough. Earning her doctorate in Innovation Management from Wuhan University of Technology in China, over six years of university teaching experience at the undergraduate and graduate levels and global business credentials, Dr. Munir creates a lasting impact on her audience.
Keynote Topics
BLUE OCEAN STRATEGY
Making The Competition Irrelevant An engaging and informative introduction to Blue Ocean Strategy, its logic, application and effectiveness-for CEOs, top-level managers and board members
TIPPING POINT LEADERSHIP
Rising to the leadership challenge A guide to executing strategic change efficiently by identifying and exploiting disproportionate factors of influence-for leaders of organizational change
FAIR PROCESS
Inspiring Voluntary Participation among team members A discussion about applying the concepts of fair process and procedural justice to motivate enthusiastic participation and greater initiative-for managers at any level
Recent Clients

Coca Cola
Hewlett Packard (HP)
Honeywell
Intel
T-Mobile
Autodesk
Cal Chamber of Commerce
Virbac
American Advertising Federation - Cedar Rapids (AAF)
DataPath Inc.
Paul Henney Family Services
Ohio State University Medical Center
Deloitte and Touche
Center for Non Profit Management
Haines Center for Strategic Management
KeyPoint Credit Union
Center for Wealth and Legacy Las Vegas
Clary Business Machines
Walitel

RJReynolds ( Puerto Rico)
ITESM Technologico DE Monterrey (Mexico)
Coomeva (Colombia)
Conexion Global (Colombia)
Seminarios Imagen Inc. (Puerto Rico)
EPM (Colombia)
Grupo Bancolombia (Colombia)
Zong - China Mobile (Pakistan)
Haleeb Foods (Pakistan)
AIM Inlines (Thailand)
KEY CONCEPTS IN INNOVATION:
Dr. Zunaira Munir's new book, Key Concepts in Innovation, published by Palgrave Macmillan, is a comprehensive glossary of the major terms and concepts that characterize innovation, covering specific areas such as product development, creativity, finance and policy. Making complex terminology clear, it is ideal for both students and practitioners in the field.
To book Zunaira Munir to speak at your event, please contact: Jan Jones Worldwide Speakers Bureau at 1-760-431-8692