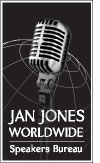 Imagine being part of an elite, highly trained team of people who routinely achieve levels of extreme precision, then improving that performance by an additional 300%! To transition from a Navy carrier pilot to Lead Solo of the Blue Angels Flight Demonstration Team, John Foley had to do exactly that. He became one of the top pilots in the world by applying principles that would become the basis for his unique Diamond Performance® Framework. Using Blue Angel methodology as a model, he developed a framework for excellence that has informed his life in a profound way and has guided his approach to achievement.
Mr. Foley went on to attend the prestigious Stanford Graduate School of Business as a Sloan Fellow and to work in venture capital in Silicon Valley. He founded CenterPoint Companies in order to share his insights and techniques with others, positioning clients to achieve high performance in both their professional and personal lives.
"What I learned most from being with the Blue Angels has nothing to do with flying itself. I learned that the process of engaging at this high level, when my very life depended on successful communication, accurate information, trust, and follow through, is the same process leaders and successful individuals use to achieve excellence." – John Foley
The path to achieving his goals was not easy. John Foley experienced setbacks and disappointments on his journey, but he turned those challenges into opportunities for learning and improvement. And, as he describes, the pursuit of excel- lence never ends. He shares with audiences concrete techniques to embrace challenge and strive for ever-higher levels of performance.
Mr. Foley's message is applicable not only to professional endeavors, but also to an individual's personal quest for excel- lence. Audiences repeatedly comment that his principles are relevant to their pursuit of personal goals and deeper purpose in life.
As leader of CenterPoint, John Foley has served as advisor to Fortune 500 corporations, professional athletic teams, venture capital companies, professional associations, and educational institutions.
Mr. Foley has earned three master's degrees: one in Business and one in International Policy Studies from Stanford Univer- sity, and the third in Strategic Studies from the Naval War College. He completed his undergraduate degree in Mechanical Engineering at the U.S. Naval Academy, where he also played in two bowl games and contributed to one of the best four-year records in Navy football history. During his years of service as a Navy carrier pilot, he won six Top Ten Carrier Pilot awards. As a Blue Angel, John gained extensive media experience with over 500 appearances including ABC, NBC, CBS, A&E, and the Discovery Channel.
Through CenterPoint, John Foley combines his rich experience and unique insights to equip organizations, teams, and individuals to pursue their highest goals, achieve breakthrough performance, and sustain results.
To book John Foley to speak at your event, please contact: Jan Jones Worldwide Speakers Bureau at 1-760-431-8692