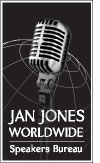 James Van Praagh is an internationally-renowned psychic medium and #1 New York Times best-selling author of Talking to Heaven; Reaching to Heaven; Healing Grief; Heaven and Earth Looking Beyond; Meditations; Ghosts Among Us; Unfinished Business and Growing Up In Heaven. 
Van Praagh is considered a pioneer of the mediumship movement throughout the world, and has been recognized as one of the most accurate spiritual mediums working today. His messages have brought solace, peace and spiritual insights, changing how millions view both life and death. He has received many awards for dedicating himself to changing the consciousness of the planet.
A guest on numerous national radio and television shows including OPRAH, THE TODAY SHOW, A&E BIOGRAPHY, LARRY KING LIVE, DR. PHIL, 48 HOURS, THE VIEW, JOY BEHAR SHOW, CHELASEA LATELY, COAST TO COAST and many more. He was the host of his own nationally syndicated show Beyond.
James has also been a successful producer for CBS, creating one of the most-viewed  mini-series Living with the Dead based on his life and The Dead Will Tell, starring Eva Longoria. He recently was the creator and producer of CBS' long running series The Ghost Whisperer, starring Jennifer Love Hewitt, seen in four hundred markets around the world and launched a worldwide interest in ghost hunting. Currently he is developing other "spiritually minded" television shows and a one-man show based on his life.
| | |
| --- | --- |
| James and George Clooney | James and Wayne Dwyer |
| James and Doreen Virtue | James and Jennifer Love Hewitt |
Van Praagh spends his days traveling the world, teaching mediumship development classes, hosting cruises to spiritual destinations, and conducting sold-out seminars. He takes pride in having built a website that encourages spiritual learning, grief support and friendships through its many online communities, resources and activities. "The books, live stream events, seminars, classes, web site, social media outlets and television projects are ways to share my abilities and the message that there is no such thing as death, it is merely an illusion, and everyone survives death!"

TOPICS:
An Evening of Spirit with James Van Praagh
James will deliver messages for the audience from passed-over loved ones and spirit guides, introduce you to the process of mediumship, lead a healing, guided meditation and much more, in a warm and loving environment. 
Workshops with James Van Praagh
Workshops can be half-day, full day, or longer and topics covered include:
Exploring the various states of consciousness and awareness
Learning how to connect with family and friends in the Spirit world
Learning who your guides are and how to recognize their presence
Learning about many aspects of physical phenomena
Understanding and learning the mechanics of mediumship
Finding out how the trance states can enhance the development of mental    mediumship.
Discussing the integrity, ethics and responsibilities of mediumship
Learning how to protect ourselves psychically from foreign and unwanted energies


To book James Van Praagh to speak at your event, please contact: Jan Jones Worldwide Speakers Bureau at 1-760-431-8692