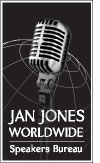 Digby Jones was born into business. Some of his earliest memories are of life in a busy corner shop where he lived with his mother, father and older sister. The shop was, he says, "within a spanner throw of the Austin" in Alvechurch just outside Birmingham. He remembers fondly pressing his nose against the shop window watching the new Minis leave the factory destined for showrooms across the UK and the world. It was here he learnt the first rudiments of business – important values that were never to leave him.
He discovered the importance of good customer care at an early age and the concept of profit and loss, the very essence of good business management became an everyday reality for the young boy. And when, in the mid-sixties, the supermarkets began to move to the area, he also learned about the vulnerability of business.
Life in the corner shop also made him very aware of community. Where he lived almost everyone relied on "the Austin" in some way. On payday, families would come into the shop and spend their hard earned cash. When times were hard they spent less, which taught him how this affected everyone, not least his own family. During his three years with the Royal Navy Digby learnt about leadership, teamwork and the importance of constant communication.
In 2000 he joined the Confederation of British Industry (CBI). During his six and a half years as Director General he became known in the public arena especially for his candid, forthright attitude in his many media appearances. He campaigned relentlessly on a range of issues including the move from traditional manufacturing of commodities to value-added, innovative products and services. He also lobbied against protectionism protesting that "it is a scourge which may well find short term popularity but inhibits growth, reduces wealth and oppresses the weak".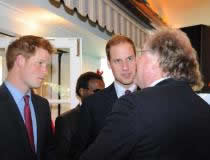 In 2005 he was knighted for his services to business and became Sir Digby Jones in the Queen's New Years Honours List.
When he left the CBI in 2006 he spent the next 12 months in the private sector as advisor to Deloitte and Barclays Capital, held a variety of non-executive board roles, and was the unpaid UK Skills Envoy. In this role he became outraged about the levels of adult illiteracy and innumeracy in the UK, and made the point that we cannot hope to have a safer and healthier society if people lack self-respect or aspiration.
In July 2007 he was appointed Minister of State for UK Trade & Investment and became a life peer taking the title, Digby, Lord Jones of Birmingham Kt. Forthright and, as ever, loyal to British business he spent the next 15 months "doing it in a different way". He did not join the party of government and without the ambition to progress in politics he concentrated on the business of promoting Britain across the world, travelling to 31 countries in 45 overseas visits.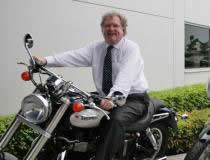 From 2009 he decided to "pull it all together". Now, in addition to his role as an active crossbencher in the House of Lords he serves as Chairman of the International Business Advisory Board at HSBC, Chairman of Triumph Motorcycles Limited, and is Corporate Ambassador for Jaguar Cars and JCB. He advises in a number of other paid and unpaid roles, fulfilling his vision of promoting socially inclusive wealth creation. Digby travels regularly across the UK and overseas, runs his own business and his fulfilment is complete when Leicester Tigers and Aston Villa win their matches. He has many plans for the decades to come.
Ambassador for Business
Throughout his career Lord Digby Jones has travelled to over 70 markets across the world gaining a unique breadth of knowledge and experience to help you with market entry, maximising your time and resource.
Whether it is achieving effective marketing, consolidating an existing position, whether it is commenting on international economies and political climates or effecting introductions across the world, Digby's advice and coverage can make a difference.
Business Speaking
Lord Digby Jones is a highly accomplished international business speaker and orator with a capacity to communicate effectively to a wide range of audiences.
As one of the world's most acclaimed business commentators, Digby entertains and inspires audiences around the globe, with his memorable, bespoke presentations at conferences, seminars and dinners.
Highly original, Digby has a wide range of corporate and public sector clients who value his original thinking and his ability to unify audiences with his captivating and unique personal style. Topics are adapted to suit clients' individual needs and preferences embracing insightful and topical views on the world's economies; the changing face of business in the 21st century; and closer to home the ongoing public versus private sector debates. His seminars on leadership and management are much in demand.
He has shared the stage with the world's leading Statesmen and Stateswomen, spoken at Party Political Conferences, delivered keynote addresses at symposiums and conferences around the world as well as sharing his insight at seminars and business events for private and public sector organisations across the UK. Digby has provoked thought at lectures and combined the serious and the jovial for clients requiring a topical and dynamic element at their corporate dinners and lunches.
Since leaving his Ministerial role in 2008, Digby has continued to speak at major international events across the world including Austria, Australia, Bahrain, Belgium, Brazil, Czech Republic, Dubai, Hong Kong, Ireland, Italy, Malaysia, Spain, Thailand, Turkey, Qatar, USA.
Leadership for Business
Lord Digby Jones can help you reignite and stimulate your business performance with better and more effective leadership. As former Director General of the Confederation of British Industry (CBI) Digby has a unique breadth of experience when it comes to a focused business approach.
Business management has changed. The contemporary marketplace demands that leaders of today are visionary, ethical and innovative. This requires a new approach to management training and leadership development.
A perfect leader suited to one business may not be ideal for another.
These days your leaders' visions are as important as your business strategy. They must possess the traits that motivate others to follow them in new directions; traits such as emotional stability, enthusiasm, conscientiousness, and social boldness.
Digby can help you devise an effective leadership and management programme and determine the traits that characterise an effective leader for your business. He can also challenge and stimulate your existing leaders – developing their strengths and coaching them on their weaknesses, such as time management and psychological resistance, helping them envision a future that works as well for them as it does for your business process.
To book Lord Digby Jones to speak at your event, please contact: Jan Jones Worldwide Speakers Bureau at 1-760-431-8692