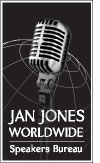 Hierarchy is the company that has its face to the CEO and its ass to the customer...   Kjell Nordstrom, Author Funky Business
Dr. Kjell Nordstrom is a bold leader in the new world of management thinking. He doesn't just challenge the conventional approach to business, he offers real solutions and alternatives. He says in business today you have to "Move It. Move it Fast. Move it Faster". His book Funky Business: Talent Makes Capital Dance, has been described by Tom Peters as "the antidote to bland writing and bland thinking". It is an international best seller, translated into 32 languages.
From the book: "Only talent will allow you to be unique, to escape business as usual. In this world we need business as unusual. We need innovative business. We need unpredictable business. We need Funky Business."
"In a world of abundance and excess, competition is total and competition is personal. Difference rules. If you think about it, most of what your business does could be bought from someone else using the Yellow Pages or an Internet search engine. How are you going to be attractive? By being more efficient? By doing it cheaper? Come on! This is the age of time and talent, where we are selling time and talent, exploiting time and talent, hiring time and talent, packaging time and talent."
Dr. Nordstrom is ranked as the #1 Thinker in Europe on the Thinkers50 list and #23 in the world. He is Associate Professor at the Institute of International Business (IIB) at the Stockholm School of Economics. Kjell is one of the founders of the School's most prestigious management programs, The Advanced Management Program (AMP). AMP is a five-week top-management program that attracts the elite of Scandinavian executives. His research and consulting focus on the areas of corporate strategy, globalization and multinational corporations. How will companies break out of corporate complacency and compete in a world where consumers are "condemned" to freedom of choice?
Dr. Nordstrom is on the board of directors of several companies. His clients include Volvo, BMW, Ericsson. His books have been reviewed in TIME, Fortune, Fast Company, The Financial Times and he has TV appearances include CNN and CNBC.
TOPICS:
Business Strategy, Business Competitiveness, Globalization,
The Future of the Multi-National Corporation
"What an excellent theatrical delivery. Kjell was charming and helpful and certainly tailored his whole presentation to the event. Overall, his performance was none other than excellent." - VISA
To book Dr. Kjell Nordstrom to speak at your event, please contact: Jan Jones Worldwide Speakers Bureau at 1-760-431-8692