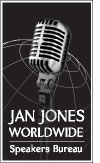 "Your Message is Powerful!"
    Edward Ray, Head of National Sales, Coca-Cola Russia

If You're Serious About Success In Today's Business World,
You Need Michael Bergdahl
An internationally acclaimed speaker, business coach, and author, Bergdahl combines a lifetime of insider expertise with a powerful, high-energy style that inspires, electrifies, and entertains audiences as he teaches them how to compete in a Wal-Mart world.
Bergdahl's power-packed, to-the-point presentations and his unique knowledge of Wal-Mart's methods have made him one of today's most in-demand business speakers and coaches. The methods and processes he explains are far more than just theory - as an experienced "turn-around" specialist who has helped some of the nation's largest and most influential organizations restructure, refocus, and rebuild, Bergdahl knows how to help businesses get results.
Michael Bergdahl is a full-time business coach, speaker and facilitator operating as an affiliate of Resource Associates Corporation specializing in targeted performance solutions for organizations. His company provides targeted business solutions by focusing on learning and development processes which include: Strategic Planning, Executive Coaching, Executive Leadership, Management, Supervision, Sales, Time Management and Customer Service.

Professional International Speaker,
Author & Wal-Mart Competition Authority
Background: Michael Bergdahl is an international business speaker, author and turnaround specialist. Bergdahl was based in Bentonville, Arkansas for Wal-Mart, as the Director of "People" for the headquarters office, where he worked directly with Wal-Mart's founder Sam Walton. It was Sam Walton who gave Bergdahl the nickname, "Bird Dawg!" Previous to Wal-Mart Bergdahl worked in the FMCG Industry for PepsiCo's Frito-Lay Division in the sales organization and headquarters HR staff assignments. Bergdahl has 26 years of HR experience. He's an experienced turnaround specialist who has participated in two successful business turnarounds at American Eagle Outfitters and Waste Management.
Wal-Mart Competition Authority: Michael Bergdahl an authority on Wal-Mart Competition. He has appeared on CNN, CNBC, CNN FN, MSNBC, CNN International, Univision, CBS National Radio and Bloomberg TV. He has participated in internationally televised news debates on "Power Lunch", "On the Money", "Morning Call", and "Closing Bell". Articles written by him, and articles written by others about him and his books, have appeared in business newspapers and magazines around the world.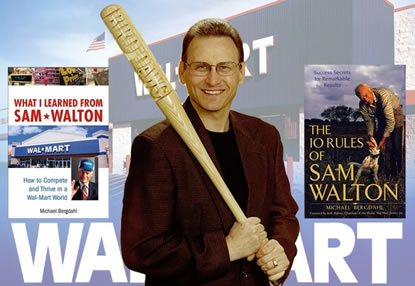 Books: His first book about the strategies of the world's largest company is called What I Learned from Sam Walton: How to Compete and Thrive in a Wal-Mart World. His second book, about the tactics of the world's richest man", is entitled, The 10 Rules of Sam Walton: Success Secrets for Remarkable Results. Note:Rob Walton, the current Chairman of the Board of Wal-Mart and son of Sam Walton, wrote the Foreword for "The 10 Rules of Sam Walton" book. Both books were published and distributed internationally by John Wiley & Sons. Translated versions of are available in Russian, Thai, Indonesian, Korean, Simplified Chinese, Traditional Chinese, Vietnamese, and Spanish.
International Speaker: A keynote speaker on six continents, Michael has spoken to diverse audiences around the world including Brisbane, Australia * Beijing, China * Melbourne, Australia * Vancouver, British Columbia * Toronto, Ontario * Mont Tremblant, Quebec * Caracas, Venezuela * Bogotá, Colombia * Panama City, Panama * Cologne, Germany * Istanbul, Turkey * Malaga, Spain * Moscow, Russia * Port Douglas, Australia * Santiago, Chile * Durban, South Africa * Kiev, Ukraine and across the USA.
Speeches: Michael's talks are one part business, one part inspiration and one part storyteller. He customizes his presentations to suit the audience, and he designs them to teach others Wal-Mart's Best Practices. In his speech, "Growing Your Business the Sam Walton and Wal-Mart Way"(a.k.a. Picking Wal-Mart's POCKETS), Bergdahl unveils the best practices of Wal-Mart, and the success secrets of Sam Walton. Audience members will learn the tactics of Sam Walton, and the Strategies of Wal-Mart.
Audiences: Michael's audience includes Retailers, Manufacturers and Suppliers. He speaks to a wide variety of audiences including Sales, Customer Service, IT, Supply Chain/Logistics, Franchisees, Financial Services, Real Estate Developers, Property Managers, Leasing Agents, Retail Managers, Marketing Professionals, Human Resources, Plant Managers, Engineers, DC Managers, Operations Managers, Product Manufacturers / Suppliers / Buyers, Pharmacists, Bankers, Presidents, Entrepreneurs, College Students, CEOs, CIOs, CTOs, and CFOs. He has spoken at events for Wal-Mart's current suppliers, and its direct competitors, who are interested in improving their ability to compete successfully in a Wal-Mart World!
To book Michael Bergdahl to speak at your event, please contact: Jan Jones Worldwide Speakers Bureau at 1-760-431-8692