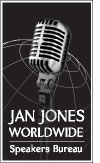 The best speaker we have ever had at a conference.
- BMW
BOB PRITCHARD is known as "the business leader's advisor". He is one of the most in-demand and relevant speakers in the world today.
Bob has 30 years experience as a business and marketing troubleshooter and consultant with many of the world's leading companies including BMW, Microsoft, AT&T, Johnson & Johnson, Hilton Hotels, Coca-Cola, Citibank, Anheuser-Busch, Mercedes-Benz, Frito-Lay. He has directed marketing programs for Formula One, The Los Angeles Raiders, World Heavyweight Champion Evander Holyfield among others. Bob is a global specialist in business development with SMEs.
Bob hosts the weekly Bob Pritchard Business Radio Show to a global audience of almost 500,000. The program features editorial, interviews with business leaders, features on entrepreneurs and other successful personalities.
Bob Pritchard has presented for major corporations in countries far and wide, including USA, Canada, Mexico, Brazil, Argentina, UK, Germany, Italy, France, Spain, Hong Kong, Turkey, Saudi Arabia, UAE, Malaysia, India, Czech Republic, Scandinavia, Japan, Australia.
Bob has over 10 years experience as a speaker/trainer and has spoken at over 1500 conferences, including almost 100 events for Fortune 500 companies. This has required a close understanding of the global marketplace and its trends. A brief list of his major global keynotes:
- American Advertising Association
- American Marketing Association
- The Marketing Forum Europe
- Marketing Forum Italia
- American Chamber of Commerce Marketing Forum, Australia
- World CRM Conference France
- American Institute of Sales, Marketing & Management
Bob is the author of 5 best-selling books worldwide and is a frequent contributor to magazines on business, marketing and franchising worldwide.
TOPICS:
Every presentation is carefully crafted only after a detailed 'briefing sheet' has been completed and a comprehensive phone discussion held with the client, so that the client's brief and objectives are understood. Following that, Bob conducts research and develops the presentation to address those specific objectives.
Topic include:
Differentiate and Blow Away your Competition
A Champion Team will beat a team of Champions
Leadership…… Leaders Achieve Results
Marketing in Today's Technological World
The Green Revolution …… Turn Green Into Gold
Unleash Power and Corporate Value through Change
The 15 Keys to Business Success
Winning Mindset …… Your Team can Achieve the Extraordinary
How to Blow Away Your Competition
It's Not the Size of The Budget, it's the Size of the Idea
TESTIMONIALS:
Better than excellent, the perfect speaker for a business audience. Inspirational, absolutely superb.
- Sun Microsystems
The team left the room ready to change the world. A great presentation. Really got them thinking. The sports comparisons with business were interesting and powerful.
- Intel
The most successful business event ever held at the Beverly Hills Country Club. Dynamic. Incredibly energetic & motivating. Sound business advice.
- Beverly Hills Country Club
It's a pity we only had one hour, everyone wanted to hear more from you.
- Shangri-La Hotels
Followed the brief perfectly. You really inspired and motivated the team with some great stories. It was a great choice to have you back.
- Microsoft
Excellent, challenging, thought provoking, incisive, relevant.
- Middle East Council of Shopping Centers
To book Bob Pritchard to speak at your event, please contact: Jan Jones Worldwide Speakers Bureau at 1-760-431-8692