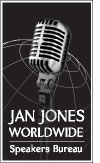 Ekaterina Walter is a social media trailblazer and an author of the Wall Street Journal bestseller "Think Like Zuck: The Five Business Secrets of Facebook's Improbably Brilliant CEO Mark Zuckerberg", as well as upcoming book "The Power of Visual Storytelling: How to Use Visuals, Videos, and Social Media to Market Your Brand."
A passionate marketer, she writes and speaks on topics of Leadership, Business Innovation, and Digital Revolution.
A recognized business and marketing thought leader, she is a sought-after international speaker and a regular contributor to leading-edge print and online publications such as Forbes, Fast Company, Huffington Post, and Entrepreneur.
Walter led strategic and marketing innovation for brands such as Intel and Accenture, and is currently a co-founder and CMO of BRANDERATI. She has been consistently recognized by the industry and her peers for her innovative thinking, most recently receiving a 2013 Marketer of the Year honor (SoMe Awards) and being named among 25 Women Who Rock Social Media in 2012.
Walter was featured in Forbes and BusinessReviewUSA, and her opinion was highlighted on CNBC, ABC, NBC, Fox News, First Business Chicago, TechCrunch, WSJ and more. She sits on a Board of Directors of Word of Mouth Marketing Association (WOMMA). Walter holds a Master's degree in International Management from the Thunderbird School of Global Management.
Says Ekaterina: "I love speaking because this is an opportunity for me to share my experiences with the world and hopefully contribute to someone's success."


TOPICS:
5 Ps of Building and Managing an Innovative Business
Based on Ekaterina Walter's bestselling book Think Like Zuck, this talk is packed with examples of Facebook's success principles in action-as well as those of Zappos, TOMS, Threadless, Dyson, 3M and other companies. Whether you are a business owner or an intrapreneur within a brand, Ekaterina will give you the inspiration, knowledge, and insight to build a business that makes a difference, and to lead your organization to long-term profitability and growth.
Fail Your Way to Amazing: Becoming a Social Business
Becoming a social business requires a thoughtful approach to integrating social media into the fabric of your organization. Supported by real-life examples of B2C and B2B companies, Ekaterina Walter reveals what it takes to become a social business, walks through the framework of creating appropriate strategy and scaling it across business units and/or geographies, and outlines what's next in the world of social media.
Leading with Heart: How to Develop Female Leaders
We've come a long way towards the rise of female leadership in the past 50 years. Even though women in business have so many opportunities to succeed in today's world, subconscious bias still exists in the workplace and isn't fully recognized. In her talk, Ekaterina discusses what women can do both individually and collectively to address that bias, what they can do to develop professionally and personally, and how they can support each other on the journey to the top. She will talk about the traits successful women leaders share and what women can do to proactively take charge of their destiny.
TESTIMONIALS:

Ekaterina is an exceptional speaker with a keen sense for what is real, relevant and resonant to a large conference audience. She does not disappoint. -  Stewart Quealy, AllFacebook Expo
Ekaterina is intelligent, passionate about the subject matter, articulate, and insightful with practical 'how to advice'. - Harry Rollason, Useful Social Media
Ekaterina is consistently one of the best, most energetic, most knowledgeable and highest-ranking speakers we have had a privilege to work with. You'll be inspired. - Aaron Kahlow, Online Marketing Institute CEO
Ekaterina writes about innovation not only from the heart but also with the wisdom that comes from having led Intel through a social media transformation. Read this book-and buy it for the budding innovators in your company to inspire their passion and purpose. - Charlene Li, Author of bestsellers "Open Leadership" & "Groundswell"
Ekaterina is among the very best instructors we have had in social media marketing. - Roy Young, Marketing Professionals, President


To book Ekatrina Walter to speak at your event, please contact: Jan Jones Worldwide Speakers Bureau at 1-760-431-8692