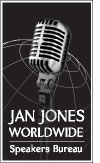 Few people have impacted the day-to-day management of people and companies more than Ken Blanchard. A prominent, gregarious, sought-after author, speaker, and business consultant, Dr. Blanchard is universally characterized by his friends, colleagues, and clients as one of the most insightful, powerful, and compassionate individuals in business today.
When Ken speaks, he speaks from the heart with warmth and humor. His unique gift is to speak to an audience and communicate with each person as if they were alone and talking one on one. He is a polished storyteller with a knack for making the seemingly complex easy to understand.
From his phenomenal best-selling book, The One Minute Manager®, coauthored with Spencer Johnson, which has sold more than 12 million copies and remains on best-seller lists, to the library of books coauthored with Sheldon Bowles, Raving Fans®, Gung Ho!®, Big Bucks!, and High Five!, Ken's impact as a writer is far reaching. His latest book The On-Time, On-Target Manager, continues to climb the best-seller charts. His book on spirituality in the workplace, Leadership by the Book, coauthored with Phil Hodges and Bill Hybels, is giving new meaning to Servant Leadership.
Ken is Chief Spiritual Officer of The Ken Blanchard Companies®, an international management training and consulting firm that he and his wife, Dr. Marjorie Blanchard, founded in 1979 in San Diego, California. He is also a visiting lecturer at his alma mater, Cornell University, where he is a trustee emeritus of the Board of Trustees. Ken is cofounder of The Center for FaithWalk Leadership, which is dedicated to helping leaders walk their talk in the marketplace.
Ken has received many awards and honors for his contributions in the fields of management leadership and speaking. The National Speakers Association awarded him its highest honor, the "Council of Peers Award of Excellence." He was inducted into the HRD Hall of Fame by Training magazine and Lakewood Conferences, and he received the Golden Gavel Award from Toastmasters International. And in 2004 Ken was awarded with The Thought Leadership Award for continued support of work-related learning and performance by ISA—The Association of Learning Providers.
To book Ken Blanchard to speak at your event, please contact:
Jan Jones Worldwide Speakers Bureau at 1-760-431-8692