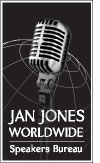 My leadership philosophy is simple: "Everything rises and falls on leadership." With so much hinging upon this philosophy I've made it my life's passion to develop leaders at all levels. I believe in you and the power of your influence to create a legacy within your sphere of influence, that will leave behind an army of leaders, who get the importance of strong leadership.
- John C. Maxwell
John Maxwell is an internationally recognized leadership expert who speaks throughout the world inspiring hundreds of thousands of leaders. John is a natural born teacher who loves to challenge and motivate audiences with real-life stories, humorous anecdotes and rock solid principles that he backs up with his live-it-out approach.
John has spent the last 40 years inspiring numerous Fortune 500 companies, national trade associations, non-profits, and educational institutions. Many of these clients ask John to return because of his ability to deliver fresh content and continually inspire his audiences.
John has authored over 70 books on the topics of leadership, teamwork, relationships, attitude, success, personal growth, and communication. He works to tailor each presentation to the needs of his specific audience.
TOPICS:
THE 5 LEVELS OF LEADERSHIP
John talks about one of his key leadership concepts, the 5 levels of leadership, and how every individual can increase their influence and their results by applying the 5 levels to their leadership walk.

HOW TO BE A REAL SUCCESS
John shares the principles that shape every individual's success by focusing on Relationships, Equipping, Attitude and Leadership.

THE 17 INDISPUTABLE LAWS OF TEAMWORK
John illustrates the laws of teamwork at work in every area of an individual's life and teaches key principles that enable teams to succeed.

THE 15 INVALUABLE LAWS OF GROWTH
Are there tried and true principles that are always certain to help a person grow? John Maxwell says the answer is yes. He has been passionate about personal development for over fifty years, and for the first time, he teaches everything he has gleaned about what it takes to reach our potential.
TESTIMONIALS:
Booking John to speak at our company is another great way to educate our leaders and grow our organization. Hearing John's leadership principles on site, directly impacts our team. Thank you, John.
- Ed Bastian, President, Delta Airlines
We have seen a positive impact on our business since we brought John in to speak to our global leadership team. His influence and teaching lifted our leaders and improved our leadership capability. We look forward to having him back.
- Kevin Turner, Chief Operating Officer, Microsoft Corporation.

CLIENTS INCLUDE:

Amway
Chick-Fil-A
Delta Airlines
Dupont
KFC
Microsoft Corporation
PGA of America
United Nations
United States Military at West Point
YMCA
To book John Maxwell to speak at your event, please contact:
Jan Jones Worldwide Speakers Bureau at 1-760-431-8692