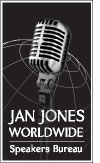 Founder of YO! and a leading business motivational speaker.

Simon Woodroffe hasn't done everything yet… but he's on his way. He has worked with some of the biggest names in rock showbiz, staged one of the biggest music events in the last 20 years, developed a successful concept-restaurant chain and is the proud parent of a teenage daughter.
It hasn't been plain sailing all the way, but where he hasn't succeeded he has gained valuable knowledge. Simon shares his story with many people through his highly successful public speaking career. He actively supports budding entrepreneurs, and is one of 5 entrepreneurs to advise the government on economic policy..
To book Simon Woodroffe to speak at your event, please contact:
Jan Jones Worldwide Speakers Bureau at 1-760-431-8692